Removals in Exeter and Devon
Taking the stress away
MV Removals knows how stressful moving home can be! So why don't you leave your move in our hands? With our expertise in the removals industry, we can guarantee you will have a stress-free move with peace of mind that your personal belongings are in our professional capable hands from start to finish.
Professional service and equipment
All furniture is moved correctly whether we use a stair sack truck, platform trolley, dolly (ie for pianos), or our furniture harnesses. When loaded in the van all furniture and belongings are wrapped in blankets and tied securely to the tie rails provided in the van. So whether it's a local or long-distance removal – we have you covered.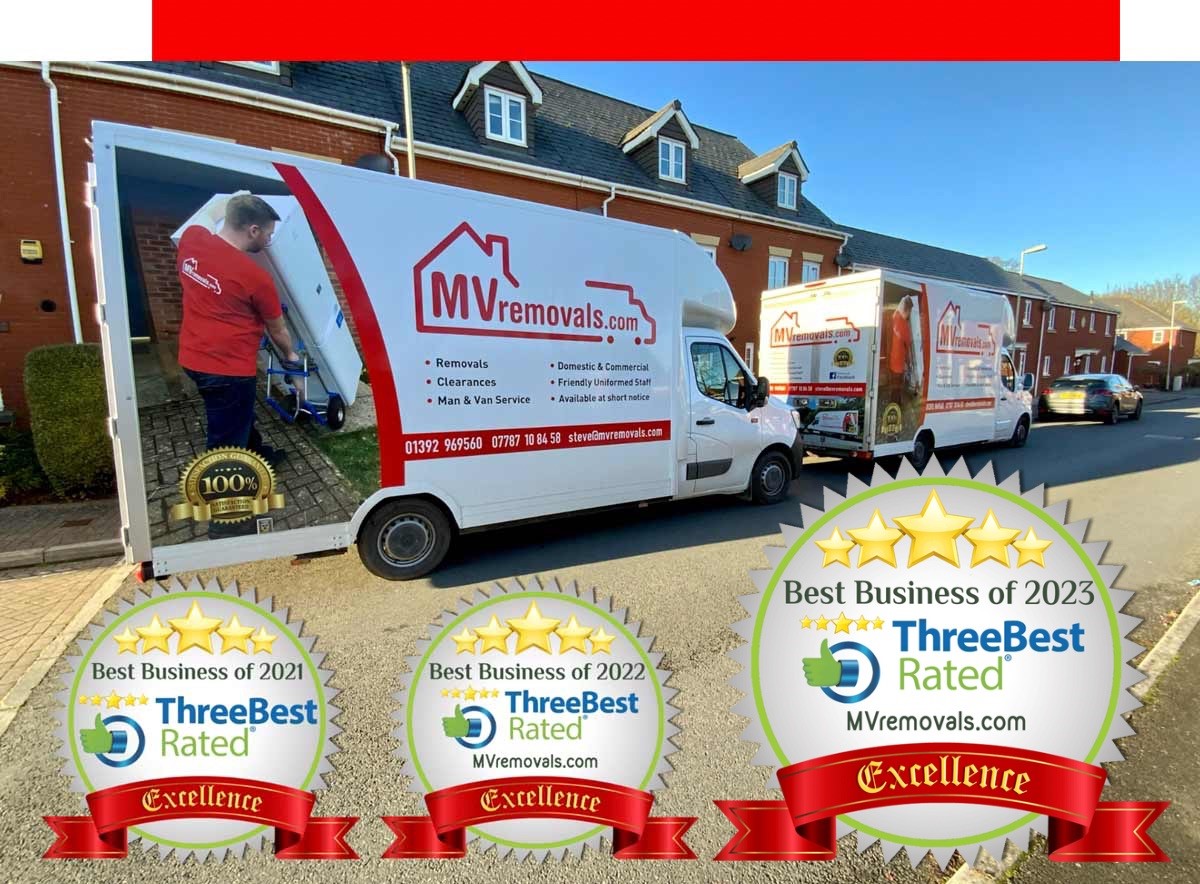 Award Winning Removal Services in Exeter
We have recently been awarded the title of Top 3 Removal Companies in Exeter by ThreeBestRated so if you're planning a move locally or a bit further afield get in touch today to find out how we can help.
We offer extremely competitive pricing so you can get moving immediately and not have to worry. At the same time, you can book your house move weeks in advance; whatever and wherever you're moving, we strive to make the operation easy and convenient.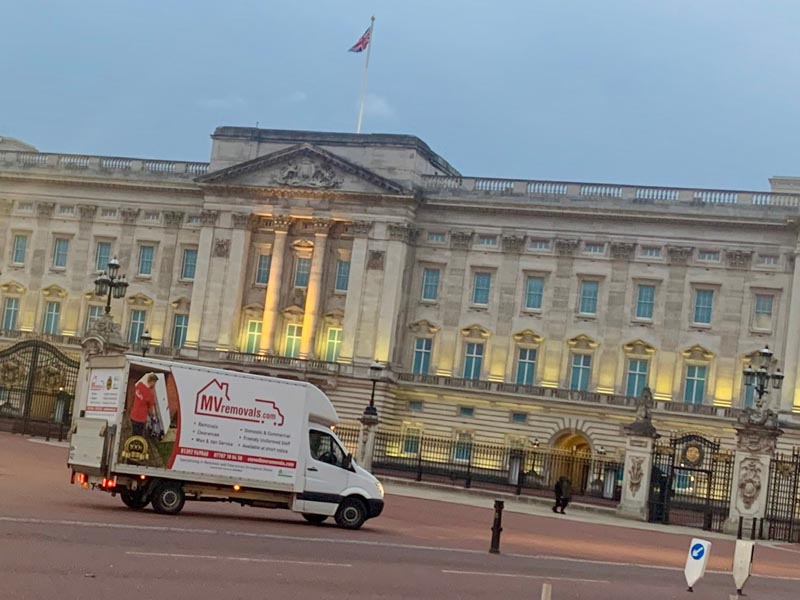 Long-distance moves across the UK require a lot more consideration than the average regional move. With far more logistical factors to contemplate a lengthier move can cause some issues. MV Removal's vast experience of the complete removals process makes us the top choice.
Office Removals
Whether you're moving to a new floor, a new building, or a new way of working, we can help you to get there. We pride ourselves on the relationship of trust we build with our customers and aim to go above and beyond your expectations.
Exeter to London
MV Removals will offer the complete service to assist with your removal to or from London. We provide an expert removal service from Devon and the West Country to London. Please speak to us today about the costs involved as we will provide better value than London companies.
Piano Moving & Removals
We provide a safe and secure removal service for your piano. Piano moves are complex and most people wouldn't dream of trying it themselves. We are one of the leading piano moving specialists in Devon. We can move your piano safely with our state of the art equipment.
NHS Removals
We offer a discount for the hard-working NHS employees, Emergency services, and Military. We do this because we want to give something back to the people saving lives on a daily basis. Speak to us today about how we can help with NHS removals. 
Read our guide to Dismantling & Resassembling Furniture →
Why not take advantage of our full inventory quotation? Let us know your pick up information, delivery information and the list of items and we will do the rest!
Need help?
Office Hours
Monday to Saturday 8am - 8pm
Office Mobile
Office Landline
Email
If you want more information or a quote on how MV Removals can help you please fill in your details below and we will get back to you as quickly as possible.
Don't just take our word for it!
We pride ourselves on delivering great customer service.
Dan Kennedy
November 11, 2020.
Great friendly people. They picked up and delivered a bed for me and was in contact the whole time. Nice and tidy sign written vans would definitely recommend them to anyone
Hesam Ghiasvand
November 10, 2020.
Brilliant job by Steve and his great team, respectful manner, high commitment to do removals in the best and safest way, I definitely call them again for my future removals. So pleased to recommend them to my friends as well, fair price great value. I'm sure nobody will be regret to leave their removals to Steve and his team. Hesam
Hanne Underwood
November 9, 2020.
Friendly, efficient and value for money service for moving furniture. Recommend everyone to use them for when they need to more. Big thank you! 👏👌👍
Simon Perry-evans
October 26, 2020.
Helen Chapman
October 25, 2020.
MV removals were brilliant, helpful, friendly, professional with nothing being too much trouble, even though my daughter's move was complicated, a truly professional service and one I would highly recommend.
Su Casper
October 5, 2020.
Steve is really a reliable guy, he helped us on moving our house for three times. Highly recommended!
Kay Sam
September 25, 2020.
Very friendly and great service! Highly recommended!
James Yelland
September 25, 2020.
Great service! Fast and friendly and at a great price. Couldnt reccomend enough!
Catherine Harris
September 21, 2020.
Brilliant, reliable service. Gave me nothing to worry about. Very reasonably priced to ! Will deffo recommend to anyone wanting a stress free removal service !
Patricia Salabi
September 18, 2020.
Fantastic service especially in these Covid times, helped my daughter move her belongings from one house in Exeter to another as we are stuck in France and couldn't help her. Amazing price, so accommodating to last minute changes and helped her pick up from one place and helped her take it up lots of stairs at the new place!! I definitely 200% recommend this team. Thanks Steve and colleagues!